Gentle Skin Cleansing Wipes
For sensitive skin
• Specially formulated for sensitive skin, this fuss-free and convenient pack contains 25 cloths that leave the skin feeling clean, supple and healthy after every use.
• Convenient, pre-moistened, ultrasoft, gentle and perfect for when you're on the go
• Clinically proven to remove 98% of makeup and dirt while soothing the skin and without causing irritation
• Suitable for all skin types. No perfume and no alcohol.
• Dermatologist developed and tested
• Ophthalmologist tested. Safe to use even when you wear contact lenses.
Features
Thoroughly removes dirt, excess oil and makeup without irritation. Ideal for sensitive skin.
CAUTION
Avoid contact with eyes. If the product gets into your baby's eyes, rinse thoroughly with water. For external use only. Store below 30C.
Fragrance free

Hypoallergenic

Defends against 5 signs of skin sensitivity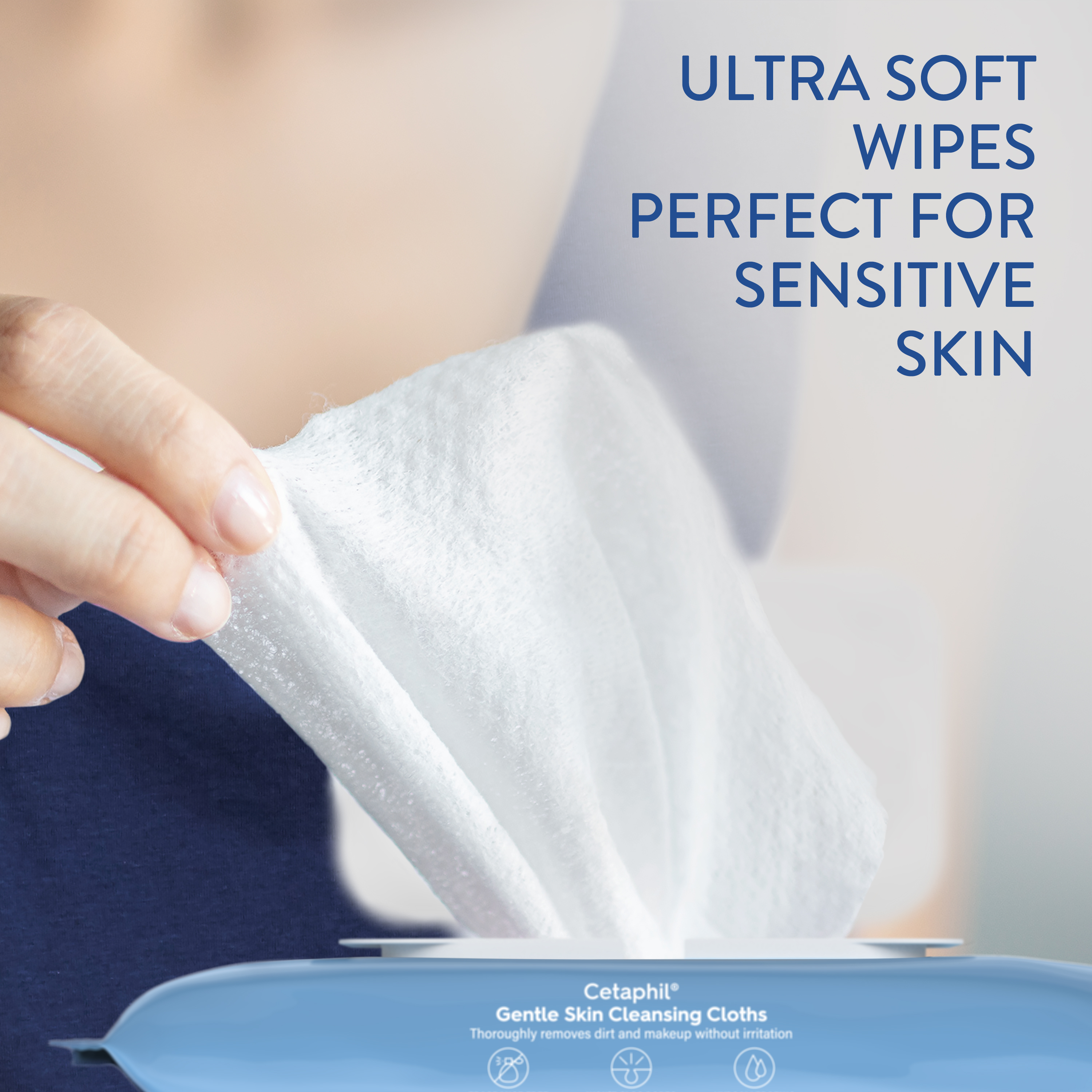 Ingridients
Aqua, Allantoin, Butylparaben, Cetyl Alcohol, Citric Acid, Disodium Edta, Ethylhexylglycerin, Glyceryl Caprate, Methylparaben, Phenoxyethanol, Propylene Glycol , Propylparaben, Sodium Citrate, Sodium Lauryl Sulfate, Stearyl Alcohol, Tocopherol, Zinc Gluconate. FIL.0895.V00
Cleanse skin with a gentle yet effective cleanser morning and night
Ideal for sensitive skin, Gentle Skin Cleansing Cloths remove dirt and impurities without over drying or stripping the skin of its natural oils and emollients.
Instantly soothe and hydrate skin for 48 hours
Moisturizing Lotion is clinically proven to start repairing the skin's moisture barrier in 24 hours and completely restore it in just 1 week. This lightweight lotion instantly soothes skin and locks in moisture leaving skin soft, smooth and protected from dryness for 48 hours.
Protect the skin from UVA and UVB rays
UVA UVB DEFENSE SPF50+ for the face and body is ideal for daily, year round use. This photostable, liposomal sunscreen spreads easily and evenly onto the skin to provide high UV protection without leaving a greasy residue.